The Westport Mysteries - Lizzie
How many secrets can one house hide?
Who knew buying a house could be so dangerous?
I recently had the great idea that moving back home to Westport and being close to my family again would be good for my soul. But now that I am close to them, I've quickly realized that I need to find a home all of my own. I love them. I really do, but the idea of living with them is kind of low on my to do list.  Especially now that grandma has moved into my childhood bedroom.
Thankfully it hasn't taken me long to find the house of my dreams – or nightmares. It's really a question of perspective..
Buy Now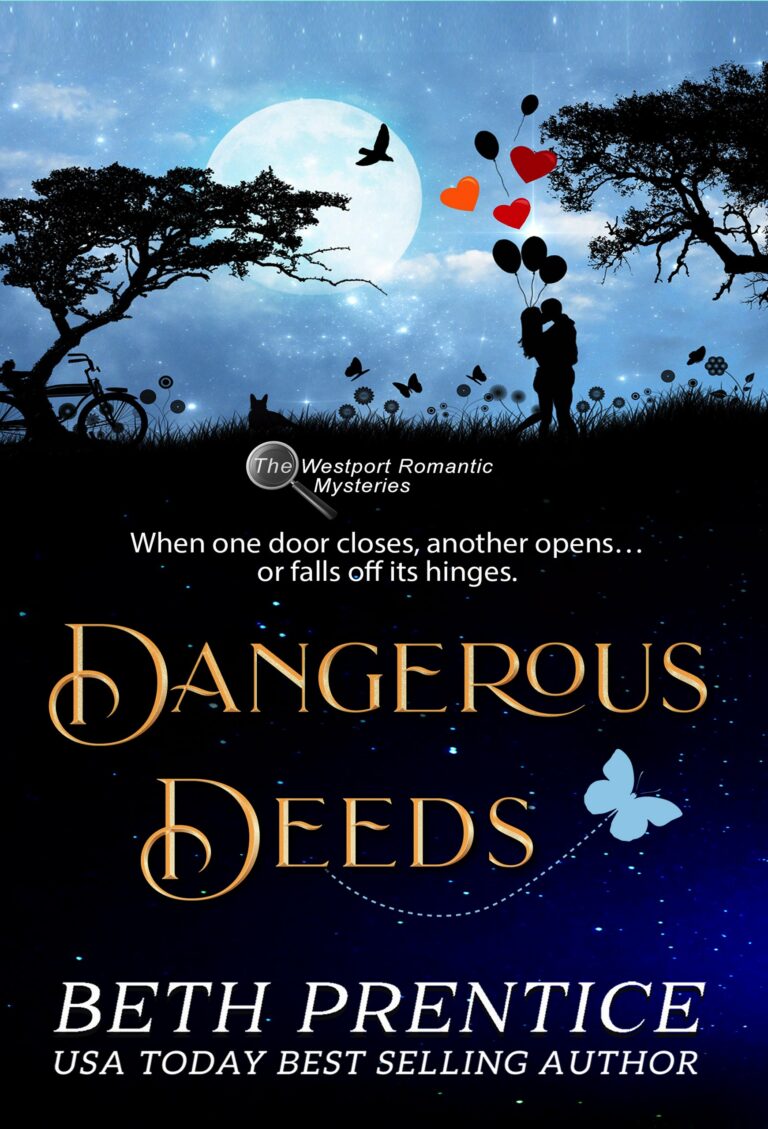 When one door closes, another opens… or falls off its hinges. Can this woman survive the renovation of her life? 
Lizzie Fuller's lackluster existence needs a serious remodel. So when a fixer-upper tugs at her heartstrings, she hires a handsome handyman and tries to ignore her dwindling feelings for her boyfriend. But when she finds an engagement ring and a cache of old letters hidden under the attic floorboards, she embarks on a quest to learn why this forbidden affair died…
Dangerous Deeds is the first cozy tale in The Westport Mysteries series. If you like handy heartthrobs, suspenseful puzzles, and quirky characters, then you'll adore Beth Prentice's charming story.
Buy Now
Just when Lizzie thought the only problems she had in life were her crazy family and far too many nightmares, the house reveals yet another secret. This time it's a skeleton in the back yard. But the unusual thing about this skeleton is that it has an extra hand. Why? Well, that's what Lizzie wants to find out. But nothing is that easy, is it?
Near misses with death, a super hot policeman with a crush, Grandma's new boyfriend, a garden full of senior citizens, and Bradley the owner of Westport Tours, all make Lizzie's life interesting, to say the least..
Buy Now
When the past comes back to haunt you.
Lizzie is ready for a new adventure in her life, and it doesn't take long for her to find it. After hitting the For Sale sign in to the ground of her house of mysteries, she is quickly charmed by another old house that is in desperate need of some love and attention. Only the house has a secret of its own. Who is its owner? Why is he so hard to find? And why does he own nine other deserted homes in Westport?
Lizzie's next adventure may not be as much fun as she had hoped..
Buy Now
Lizzie's back! It's her first Christmas with Riley and time for a new tradition. This year it's a real tree that Lizzie wants. So a visit to 'Happy Christmas Trees' is on the to do list. And with the help of Earl, the elderly gentleman with a limp, she even finds the perfect tree.
But the tree comes with a mystery gift – a beautiful etched glass bauble that sends prisms of light dancing around the room.
But why did Lizzie get the bauble? And why has no one at 'Happy Christmas Trees' ever heard of Earl?
*Previously titled "It Started With A Christmas Tree"
Buy Now